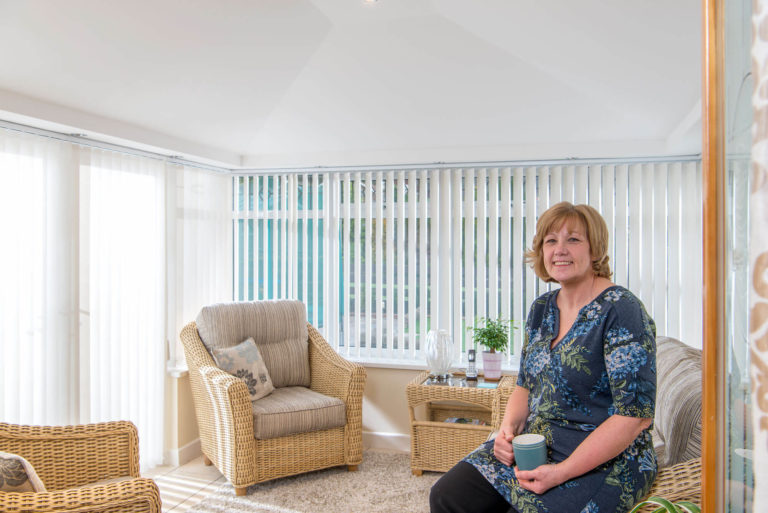 Tiled Conservatory Roof Installation Aberdare
The Leekes team helped transform this
Aberdare
conservatory into a space that can be enjoyed year-round with a new
Tiled Conservatory Roof
. Get in touch now to discuss an installation in your home.
Quality Profile
The Smith family have benefited from a quality tiled conservatory roof from one of the best manufacturers in the industry,
Ultraframe
. This profile is one of the best on the market and listed as one of the best systems available. Through choosing an Ultraframe product, the Smith family is guaranteed quality for their Aberdare home, with Ultraframe products improving the thermal efficiency, weatherproofing and security of properties.
Breathing New Life into Old Conservatories
One thing that sets the Ultraroof apart from other systems is the fact it can easily be fitted onto existing frames. This system was built to fit the Harris' Aberdare conservatory before it was sent for delivery. As the most lightweight system, it's extremely easy to install, making it perfect for old conservatories.
With the tiled conservatory roof, the Harris' will be able to enjoy their conservatory throughout the year. Even in the cold winter months, warm air will be trapped within the extension, letting the Harris' enjoy their home.
Saving Money on Energy Bills
With heat trapped in the extension for longer, the Harris family won't have to worry about using extra central heating to warm their conservatory. If anything, they may start to rely less on central heating for warmth. This, in turn, will lead to lower energy bills and reduce the Harris' Aberdare home's carbon footprint.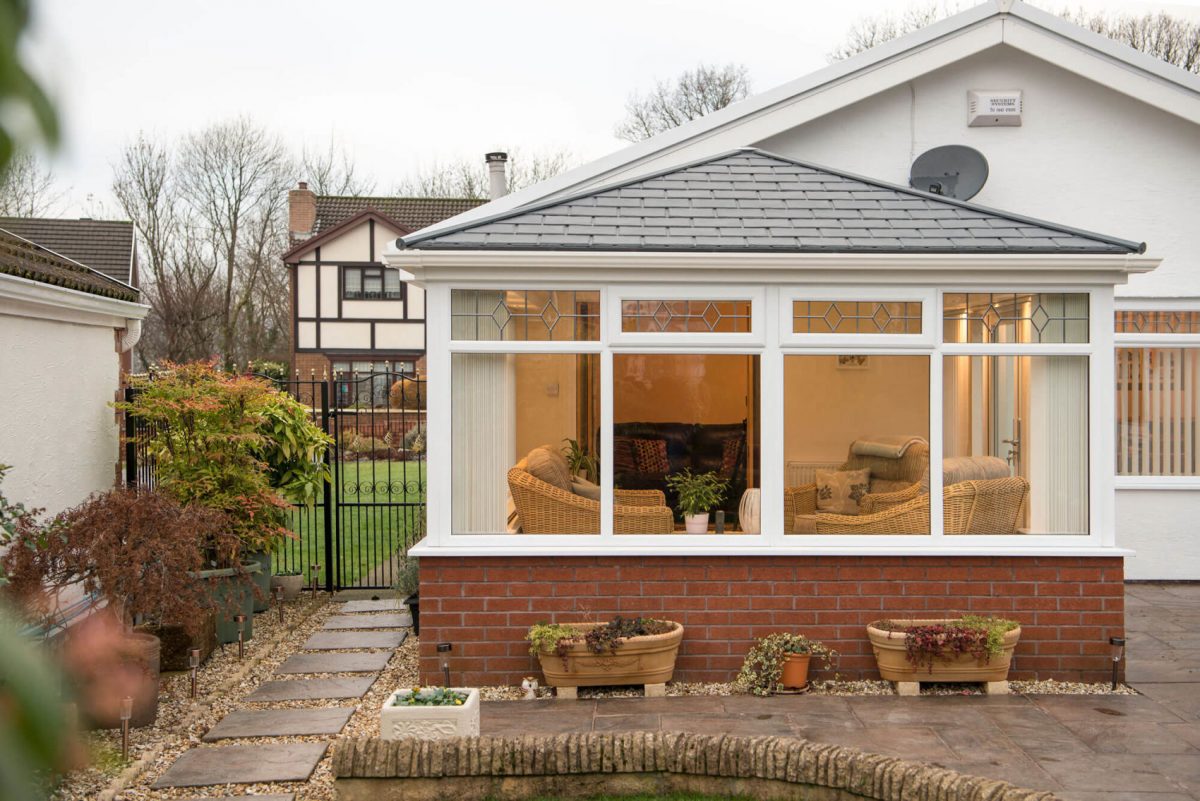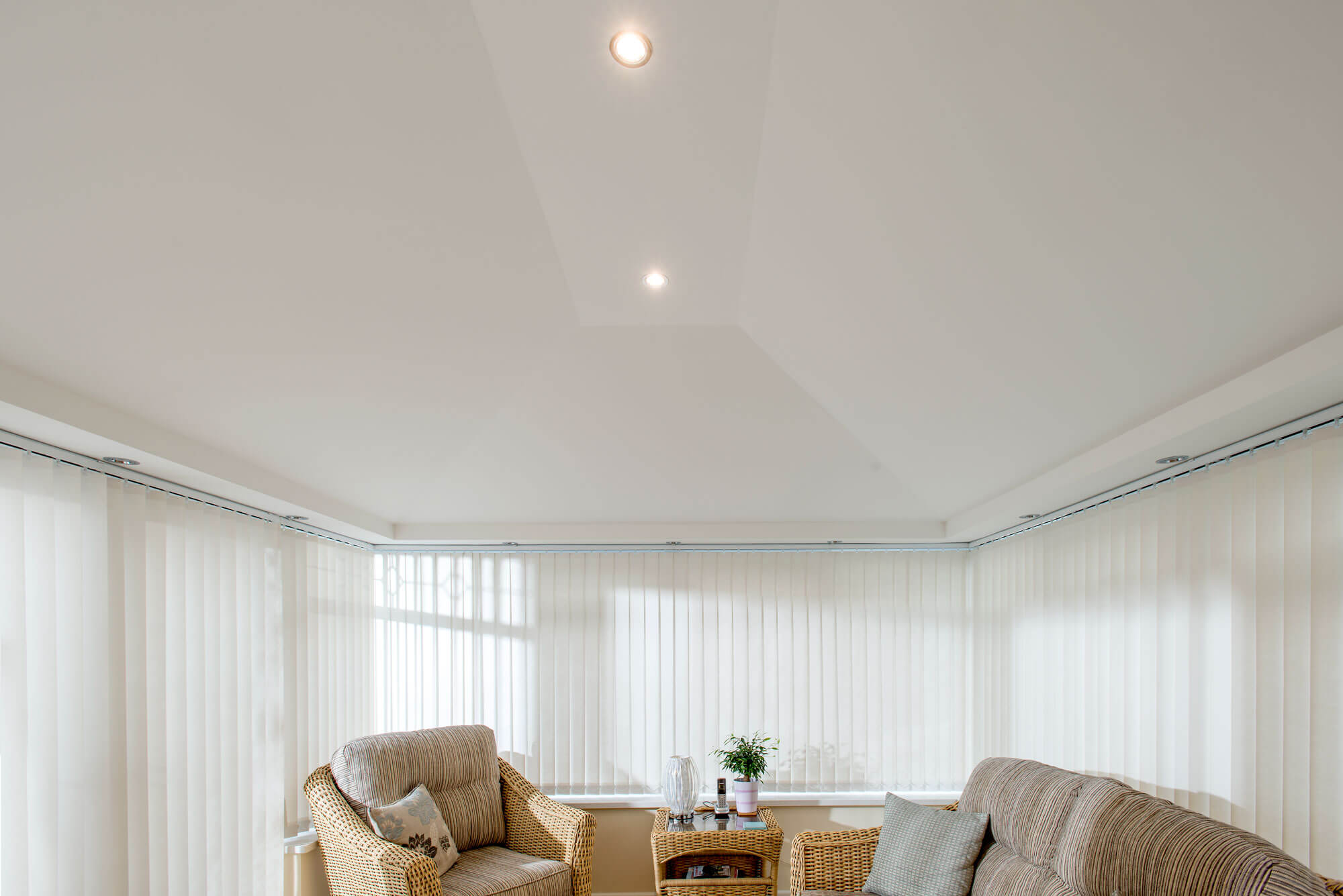 Protection Against the Aberdare Weather
One thing that sets the Ultraroof profile apart from other systems is it has been made to handle the weather in the area of the Harris' Aberdare home. The tiled conservatory roof offers complete weatherproofing, something other systems cannot promise. The roof is built with Ultraframe's Storm Shield technology, which filters water away from internal systems, protecting the roof and the conservatory.
The roof has been manufactured with the snowloads and winds of Aberdare in mind. This means that when they face bad weather, the Harris family don't need to panic and worry that their extension is at risk. Instead, they'll be able to sit in their extension, enjoying panoramic views of their garden.
"Real Room" Feel
The tiled conservatory roof's plastered internal ceiling has given the Harris' conservatory the feel of a real room. The family when they use this room will still feel like they are in the main part of their house. This provides a nice homely feel to the property.
By transforming their extension into an extension, they can use their new space for whatever they want. The Harris' have opted for a new lounge area where they can enjoy the nature in their garden. They could have, however, opted to use this as a dining area, music room or office. That choice lay completely with them.
Tiled Conservatory Roof Prices Aberdare
If you've been inspired by the Smith family's installation and want to purchase a Tiled Conservatory Roof for your Aberdare home, then don't hesitate to get in touch. You can call us on 
03332 224 120
 or you can fill out our 
online contact form
.
If you already know what style double glazing product you want for your home, then why not fill out our 
online quote
? Just enter a few bespoke details to get a rough estimate, with no obligation to book.
Or if you'd like to see our product range face to face, you can visit our Llantrisant Showroom on 
Cowbridge Road, Pontyclun
.