How Bifold Doors Can Open Up Your Home
Bifold doors are a popular choice with so many homeowners and designers alike as they instantly create the illusion of a large, brighter space. With an abundance of natural light to enter your home whilst still offering privacy, bifold doors are the perfect solution.
Opening up your home this way encourages children to go outside and play in the summer weather, creates the perfect atmosphere for al-fresco dining with friends and family and is the ideal setting for summer barbecues.
At Leekes, our bifold doors are manufactured with our customers at the forefront of design. Using only the highest quality materials and modern manufacturing techniques, we have created bifold doors that will transform your home.
Bifold doors are the modern option when it comes to partitioning areas of your home. Choosing Leekes to install a set of aluminium or uPVC bifold doors in your property will give you the chance to enjoy much more natural sunlight and extra space to enjoy.
Our doors have an exceptional lifespan when compared to older timber counterparts. Boasting generous glazing panels which operate seamlessly, our bifold doors will redefine your home, opening it up to the outside world.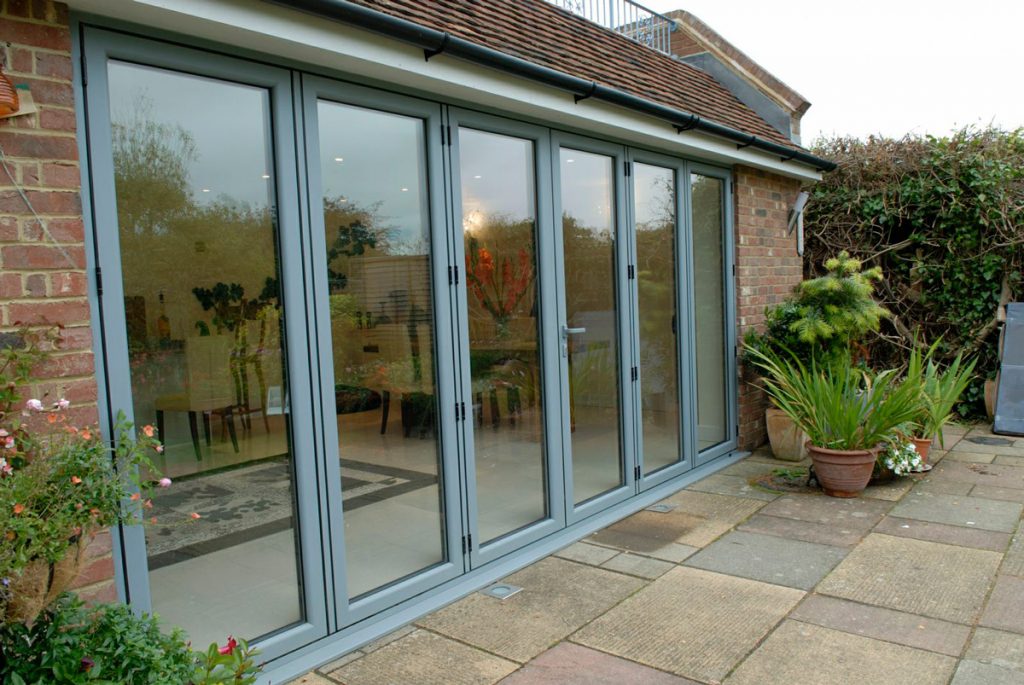 Easy To Use
At Leekes, we install bifold doors that can be used by the whole family. With an easy to operate concertina style, the eaves within each profile collapse and fold, sitting neatly on easy other. Due to the lightweight nature of the materials used to manufacture our doors you can expect the smooth movement of your bifold doors for many years to come.
Bifold doors are an excellent choice if you want to bring more sunlight into your home and create a well-ventilated space. Even when closed you can enjoy uninterrupted views of your garden. The ultra-slim sightlines create the illusion of a wall of glass, meaning you can take in the beauty of nature from the comfort of inside your home.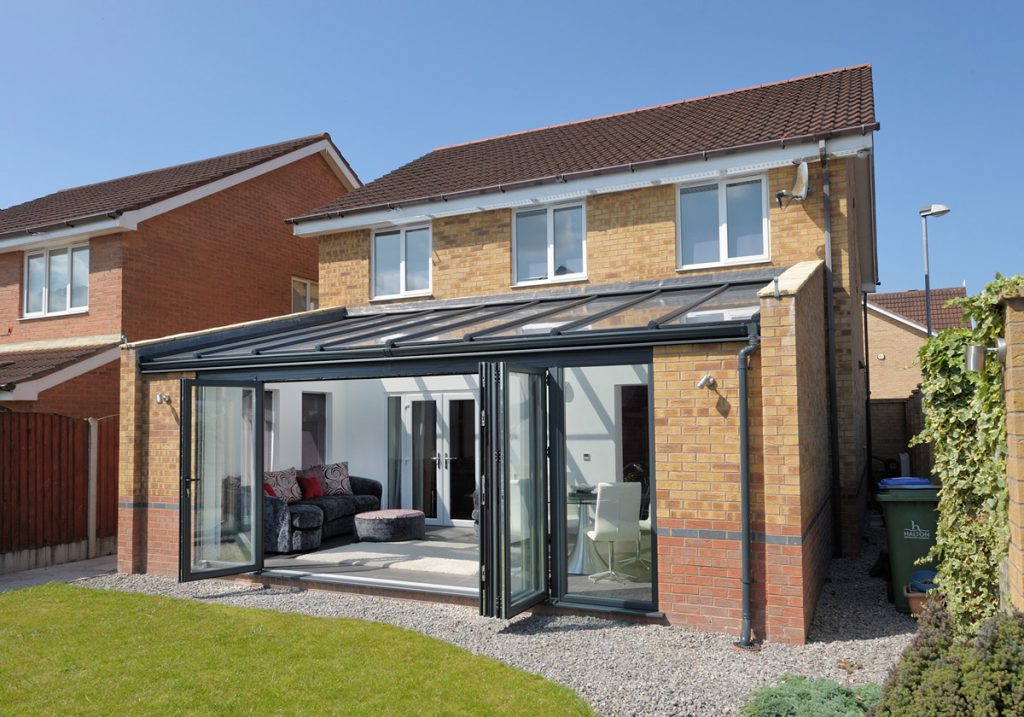 Low Maintenance
Our bifold doors that are finished with both aluminium and uPVC frames are a very popular option as they are durable and low maintenance. Just a gentle wash-down on an occasional basis will ensure your bifold doors are clean, plus just a dash of oil will keep the tracks and locks on your bifold door operating smoothly.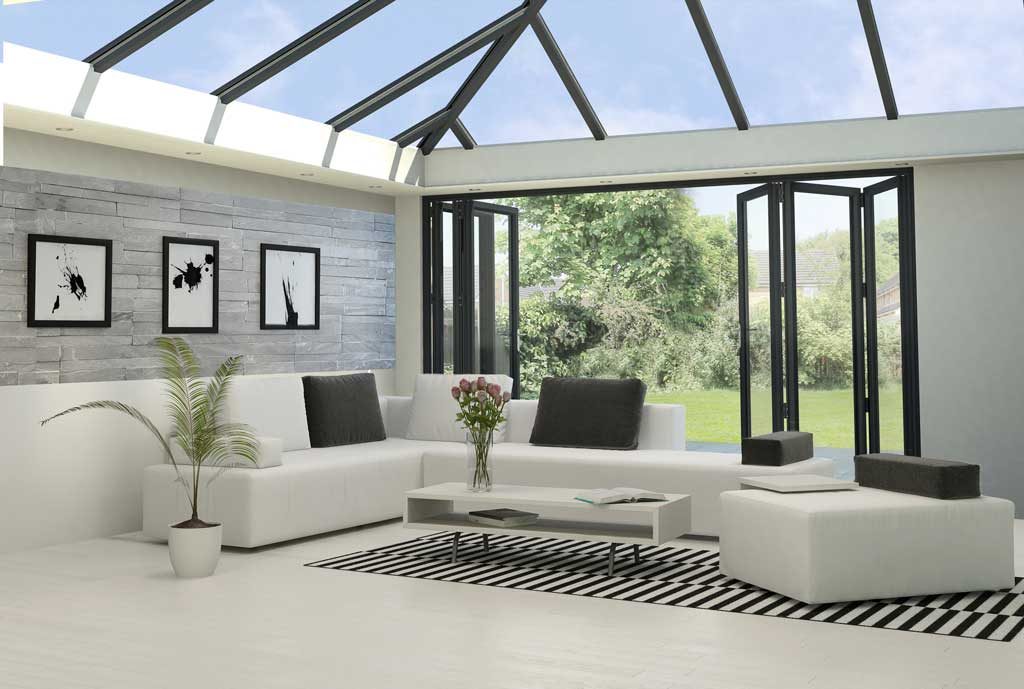 Natural Light
Bifold doors are a brilliant way for you to bring more natural light into your home. Our frames are generally slimmer than timber frames, enabling larger panes of glass to be used and in return this lets in more light and provides a wider view of your garden. Gone are the days of bulky frameworks blocking out your garden, with our bifold doors you can create a seamless connection with your garden within seconds.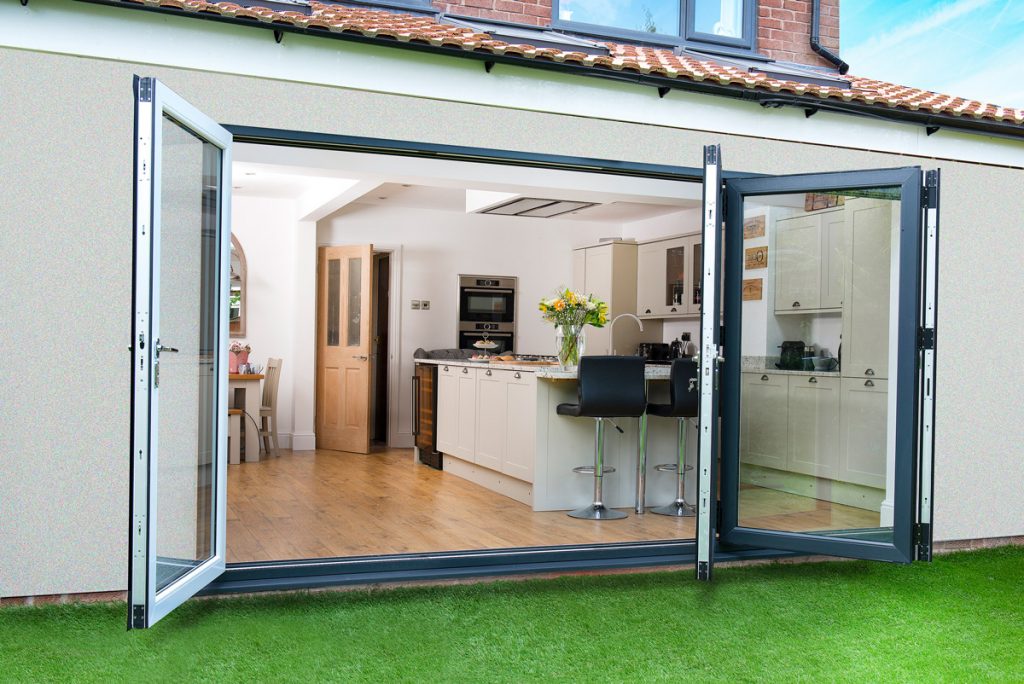 Practical Solution
Bifold doors are built to neatly fold to one or both sides when open to provide access for people to move freely from inside to outside with great ease. This also allows you to blend your outdoor and indoor space which enhances garden parties, outdoor dining and any other summer activities you may be hosting.
Remember to include an access door as they operate just like contemporary doors and this means you can simply open one leaf of the door whenever you need quick access.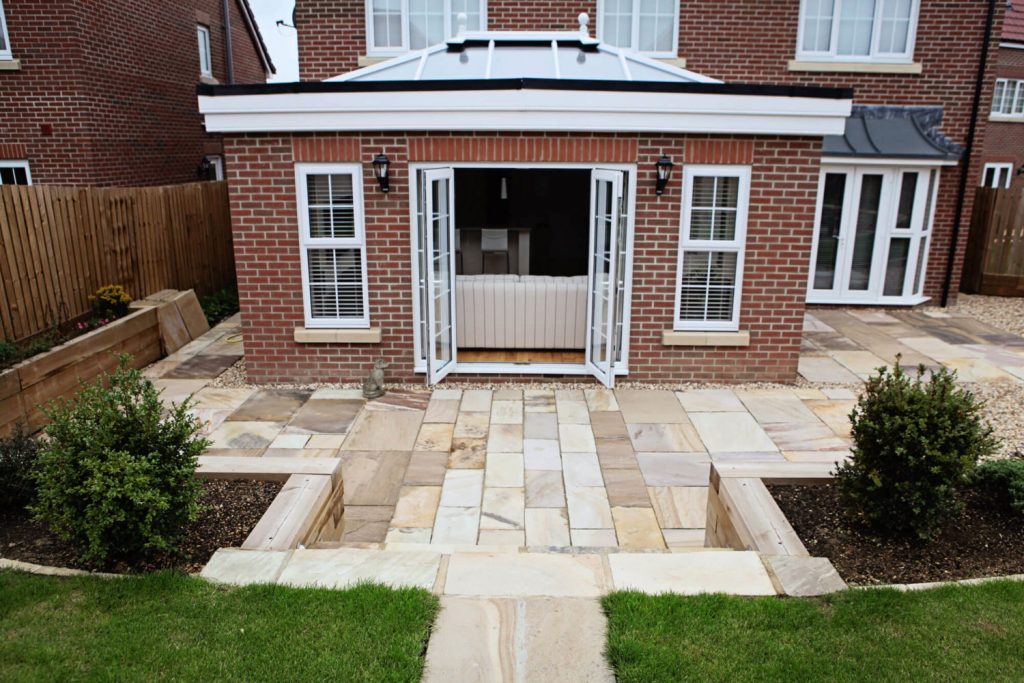 Impressive Home Security
Although our bifold doors have a slim profile, this won't put the security of your family or home at risk. The materials we use are highly durable and offer robust protection against even the most determined burglary attempts. The framework and double glazing panes that we install are impact-resistant, giving you peace of mind that your property is secure.
When combined with industry-leading multipoint locks, you'll be able to sleep peacefully knowing that your property is protected from 21st-century burglary techniques.
Accredited Installer of Bifold Doors
If you want to discuss an installation for Bifold Doors for your home, then get in touch today. You can call us on 01432 274 046 or fill out our online contact form.
You can browse our full range on our bifold doors page. For those who have a specific set of bifold doors in mind, then fill out our online quote. Just enter a few details to receive a free bespoke estimate with no obligation to book.
Categories: Advice Articles